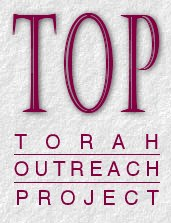 123 Route 59
Suffern , NY 10901
Tel: (845) 368-2120
Fax: (845) 368-9732
Services
[email protected]
---

Being Jewish isn't just a subject of study. It's a way of life. And a way of life can't really be understood by only reading a book, or hearing a lecture. It has to be felt … tasted … experienced … to be appreciated. And the Torah Outreach Project has designed such a program: one that reaches out in a variety of ways – to make the warmth and vitality of Jewish living available to all.

Celebrate with us; not only the Jewish holidays – but daily Jewish living. Our programs can offer you a meaningful change of pace, new insights into living from which you can come away feeling refreshed – both physically and spiritually.

Learn with us. Experience the true joy of learning and understanding what the Torah is all about. T.O.P. offers classes in all areas of Jewish living: from Jewish mysticism to Jewish law; from Jewish history to Jewish music. We can provide you with a class or tutor in the subject of your choice.
Share with us: at T.O.P. you will find a warm, friendly, responsive attitude of caring for one another. It's not just 'Judaism in a classroom', but a well-rounded program that provides you with a full and vibrant view of Jewish living and caring.